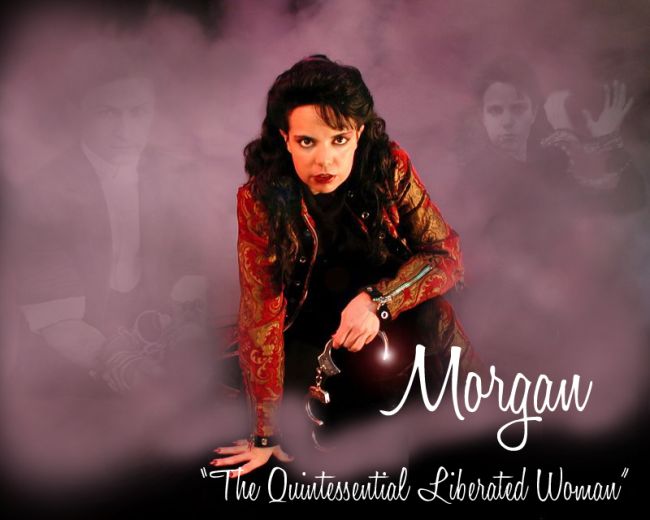 ---
As a child Morgan became an avid fan of Saturday morning cartoons and B-grade horror movies. She ran around the house in a vampire cape and told the neighbors she was a werewolf.
In time, she discovered her artistic talents and began drawing on every blank surface within her reach. Too much television soon lead to another discovery: Escape artist Dorothy Dietrich. Impressed with her larger than life, televised stunts Morgan decided she'd like to follow in Dorothy's chained footsteps.
Morgan's Mother quickly pointed out that what Dietrich did was dangerous. Artist, on the other hand, were not often killed by their work.
This logic coupled with a strong desire to work in the entertainment field, lead to an education in theater arts as well as the fine and graphic arts fields. Throughout school , and after, Morgan enjoyed an extended stay with a professional theater.
There she was able to hone her craft: performing, stage managing, and training extensively to direct. All the while keeping up her artistic talents, serving as the theatre's resident graphic artist.
However, memories of Dorothy Dietrich were never far behind. Answering an ad in the newspaper Morgan found herself traveling with a touring magic show. This lead to performances in production shows at the Showboat and Trop World Casinos in Atlantic City.
She went on to become the head writer on an Emmy award winning Children's TV show and the make-up artist for a midnight horror talk show. In 1994 she was one of only a handful of artist chosen to study at the Jim Henson studios in New York. That same year she was introduced to Illusionist John Bundy.
Morgan lives with a cat named Tut- Tut. They like cooking, photography, sculpting and growing Bamboo (although the cat doesn't help much). When she gets board with these mundane things Morgan also enjoys kayaking, shooting pool and horseback riding, for which she holds several ribbons.
---